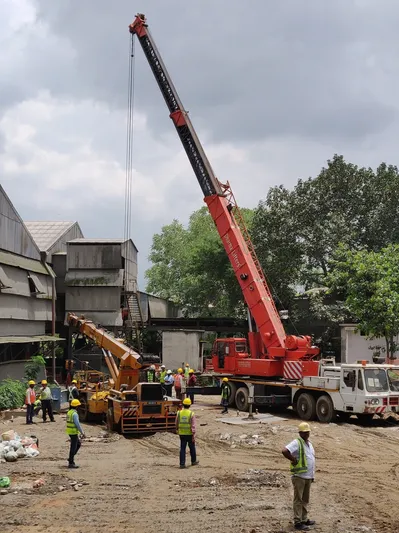 Frigate is a major technology, engineering, construction, and services company. We are engaged in core, high impact sectors of the economy and our integrated capabilities span the entire spectrum from 'design to deliver'. With over 13 year of combined experience of a strong, customer focused approach and a continuous quest for world-class quality, we have unmatched expertise across Technology, Engineering, Construction, Infrastructure Projects and maintain a leadership in all our major lines of business. Every aspect of Frigate's business is characterized by professionalism and high standards of corporate governance. Sustainability is embedded into our long-term strategy for growth.
We are a trusted Builder, Engineering & Construction Company.
Construction Division has been the main stay of the Organization since its inception. With the extensive and vast experience in Electro-Mechanical Installation work, the Company has been successful in bagging prestigious contracts as well as Repeat Orders from reputed clients. Erection Division has been operating all over India.
Range of Services
Total Material Management
On Site Fabrication and Erection of
Structural including platforms, handrails, walkways, gratings, etc.
Ducts, Stacks, Flues, Bins, Hoppers, etc.
Tanks and Low Pressure Vessels
Pipes, fittings and supports
Installation, testing and commissioning of Mechanical, Electrical, Control & Instrumentation works for
Power Plants – Thermal, Gas, Combined Cycle, Nuclear, & Hydel
Fertilizer, Petrochemical & Chemical Plants
Refineries and Oil & Gas installations
Desalination Plants
Metallurgical Plants – Ferrous & Non-Ferrous
Cement Plants
Other Industrial Plants like Sugar, Paper & Pulp
We handle it all
From proposal engineering to post-commissioning start-up services – we handle it all. The EPC Division is structured into various functional Groups comprising of capable specialists in all branches of engineering, finance, contracts management.
Proposal Engineering.
The activity starts with a customer enquiry/tender and involves site visits, interaction with customer, back up quotations for bought out items culminating in a proposal with project execution bar charts, equipment deployment schedules drawn to customer's requirements.
Due care is taken that the selection of equipment ensures energy optimization and lowest operational costs with highest reliability.
The Project Management Group
After order finalization, the project is assigned to the project execution team which is steered by an experienced project chief who is a part of project management group. The project chief has overall project execution responsibility in terms of timely completion by controlling and monitoring costs.
The Project Chief coordinates closely with the client and is accountable for complete project management.
Fully experienced in erecting plants running into millions of dollars in India and abroad, specialized multi-disciplinary teams have successfully adapted their skills to engineering and constructing smaller and medium size plants with speed and efficiency.
The Detailed Engineering Group
Before site work is commenced, the Detailed Engineering Group which comprises engineers from all fields viz. Civil, Structural, Instrumentation, Piping, Mechanical, Electrical, work out nitty, gritty of the BOQ's related to their respective scope of work in the project, including schedules, interconnecting them to the overall schedule of the project.
The Project Planning Group
The project planning team vets the schedule, approves it and then hands over the BOQ's to the procurement group to initiate material procurement activities. The project planning group monitors the project activities with reference to the overall schedule of the project.
The Procurement & Expediting Group
The Procurement & Expediting Group maintains an up-to-date information bank on vendors and suppliers of all major items and services required to execute a project on      a turnkey basis. Bulk purchasing and long-term contracts, wherever possible, allow us to obtain the most competitive terms. Over the years we have built close relations with suppliers, which help us in expediting deliveries and operate on low inventory levels.
The Quality Assurance Group
The Quality Assurance Group maintains continuous control over material and workmanship quality and coordinates onsite/factory inspection with client or third party inspection agencies.
Various quality standards such as API, ASTM, IS, BS, DIN as desired by the client are strictly followed.
On Site Facilities.
Modern construction tools and equipment, like electronic distance measuring instruments, concrete batching plants, cranes of various capacities, forklifts, etc. and a fleet of vehicles are at the disposal of the Division.
A team of engineers, technicians, welders and a host of other professionals help mobilize a site within a matter of weeks, anywhere in the world.