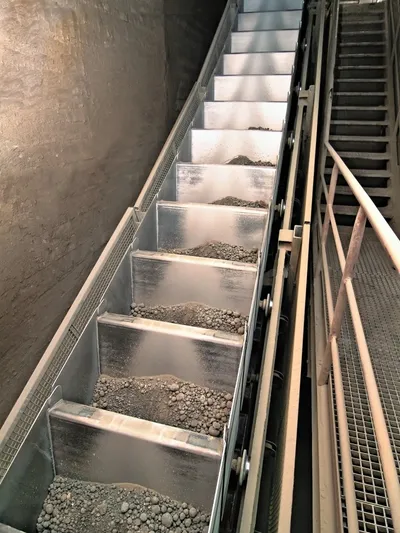 Pan Conveyors or Apron Conveyors are ideally suited where the temperature is high, profile is complex & material has to be conveyed to a certain height at a steep angle of up to 60 Deg. Apron Conveyors are the solution for conveying hot material like Clinker in Cement plants.
Technology is there in the industry for quite some time & is now time tested for transportation of hot material.
Use of special quality steel for manufacturing along with technical know-how of our design team makes it an extremely reliable & trouble free equipment.
We have a range of Apron Conveyor which can handle material temperature up to 500 Deg C. We have capability to design & manufacture Apron / Pan Widths from 500mm to 1600mm. We can design Apron Conveyors for a conveying length of approx.. 200m & 1000 TPH.
Various designs of aprons and pans are available including the AFT pan design, deep bucket conveyor design and apron pan designs to meet any application requirements.
Salient features of deep pan conveyors
Suitable for handling hot material like clinker in Horizontal and Inclined profile up to 60 degree.
Pans are pressed in high capacity presses using special dies which imparts high strength and ensures very less spillage of handled material.
Special alloy steel chain links are provided which have high abrasion resistance.
These chain links are with Non Back Bend type construction, which ensures no spillage of the material during loading and horizontal conveying.
Independent rollers are fixed at regular intervals to the pans.
Alloy steel rollers are with ball bearings which offer very less friction and are provided with special seals.
Sprockets are with segmental design and are provided with half pitch teeth which enhance sprocket life.
Special Screw type Take Up with Springs is provided for automatic tensioning during operation.
Provided with safety switches such as zero speed switch, electronic shock relay.