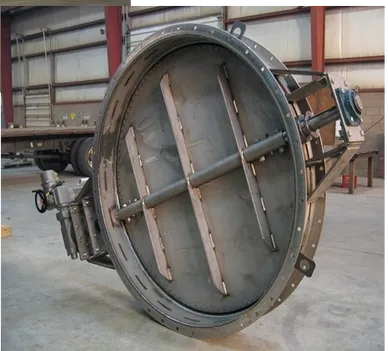 Frigate Butterfly dampers provide a simple and cost-effective method of control and isolation. Various sealing arrangements, including seal air fan, can be used to provide the correct sealing efficiency required for your application.
Frigate Butterfly Dampers can be manufactured in Carbon Steel or Stainless steel, however for special applications we can utilise any material to suit your requirements.
Our Butterfly dampers can be actuated pneumatically, electrically or manually via a simple hand lever or reduction gearbox. We offer bespoke butterfly dampers as well as standard range ones, to suit your requirements.
Regulating or isolating round butterfly damper. Normally with one single disc on a central shaft and optionally with multiple interconnected blades.
Available with pneumatic, electric, hydraulic or manual actuator.
Depending on the sealing system, varying levels of tightness can be obtained (95% -100 %).
Suitable for low pressure combustion gases at high temperatures (600ºC).
Applications in cogeneration plants, waste heat recovery systems.