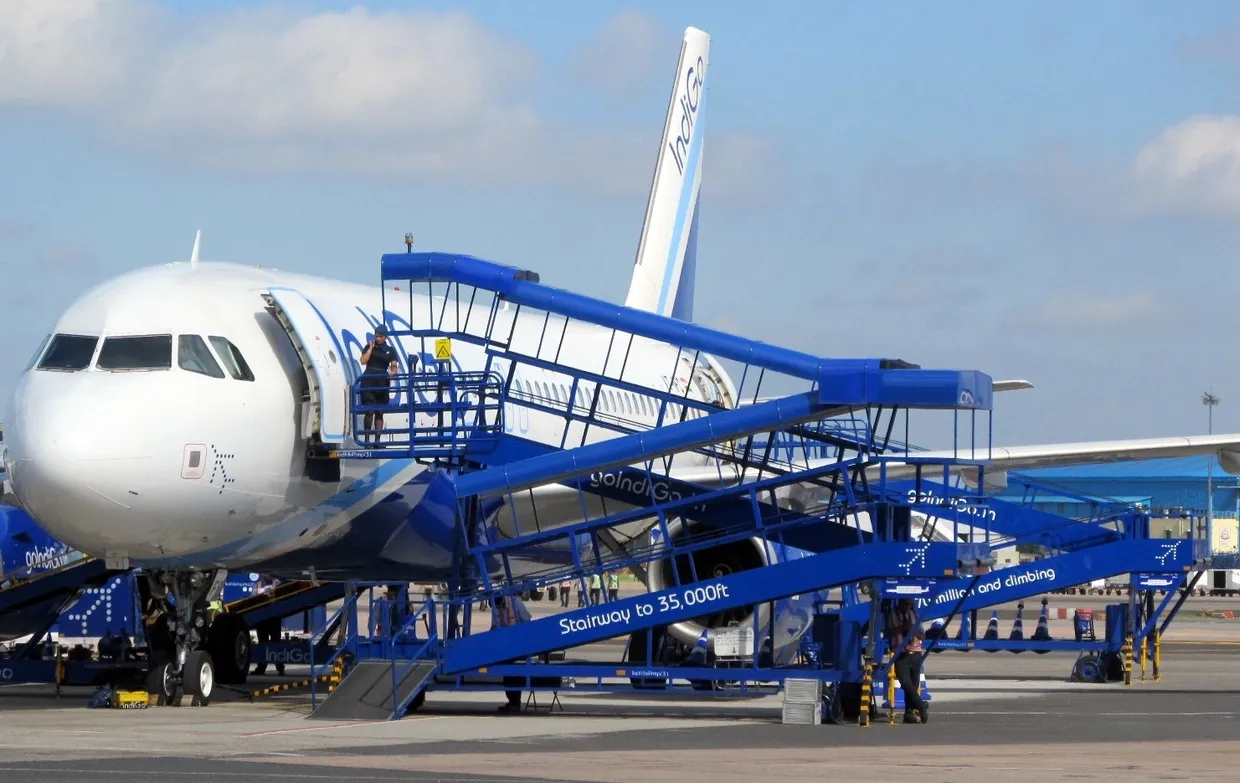 Passenger Boarding Ramp
1
At FRIGATE we design, manufacture & supply custom built Passenger Boarding Ramps as per an Airline's specific requirement based on their fleet of aircrafts.
Our Boarding Ramps are affordable, user friendly, robust & can be re-configured. Our ramps are client specific to minimize the boarding & de-boarding time to meet challenging deadlines in Airlines industry.
We design Passenger Boarding Ramps in such a way that it can be configured for various aircrafts.
PAX ladders are in use since the commercial aviation industry came in to existence. Now the very basic question arises; what is the need of these boarding ramps.
Preliminary Objectives
Dignified boarding to people with reduced mobility
Ergonomic inclination
Minimize boarding & de-boarding time
Drawbacks in existing PAX Ramps
Steep Incline = Un-ergonomic climb
Even more difficult climb for people with Reduced Mobility
Strenuous for Ground Handlers to push wheel chairs on steep incline
Floor slippery during monsoon
Drawbacks in existing PAX Step Ladders
No provision to handle wheel chair bound passenger
Undignified & Unsafe handling of passenger on wheel chair
Difficult climb for people with Reduced Mobility
Overview of features
CAPEX SAVINGS : No need for Ambulift
POWER SAVINGS : Total power load of only 2.5 KW
ADDITIONAL REVENUE : By way of advertisement on side walls
ON-TIME PERFORMANCE : Enhanced passenger flow
BRAND PERCEPTION : Passenger comfort (by way of ergonomic climb) will lead to better branch perception in the minds of passengers
ZERO CARBON FOOT PRINT: 100% solar power based model is also available.
SAFETY: Safe boarding for all passengers, including children& elderly.
Anti-slip all weather flooring
State-of-art Operational & Safety features
Various Options:
100% Manually Operated
Petrol / Diesel Generator based
CNG based
Solar Powered models
Adaptability : Ramp can cater to the following aircraft fleet:
A320 family
B737 family
Embraer E170 | E175 | E190 | E195
Passenger Comfort
Inclination of all walkways (except last one) fixed @ 7.5 deg
Last walkway can be inclined from ± 0 deg to (+) 8 deg.
Ergonomic inclination = Dignified boarding of PAX
Low center of gravity = Higher Stability
Maintenance
Overall low maintenance: MOC doesn't require any special attention.
No Hydraulics = Zero spillage.
Operations
Simple operation. Only one hinged walkway
Main Drive (FWD-REV) : Geared Motor on rear wheels. In-built brake
Electrical (Geared Motor) Screw Jack = Luffing
Manual luffing by spindle wheel. Also acts as manual over ride
Steering Control – Through Tow Bar
Joystick control on Tow bar + Control panel on landing platform
Safety
PAX can disembark in front of 1st ramp. Improves flow of PAX to a/c.
Safe queuing of PAX (funneling)
No tripping hazard as in step ladder
Anti Slip Flooring + Fluorescent strip on floor
Emergency stop switch on all 4 sides
Walkway lighting (LED lamp)
Flashing Beacons
Rubber bumper : Flexible leading edge
Extension floor :      Cover gap between top of ramp and top of a/c floor
Sliding hand Rails : No gaps between aircraft and walkway
Proximity Switch:      Actuation of inching speed.
Canopy with or without curtain
Fully removable curtain
Manual Screw Jack      – Stability (operation)
Separate Staircase for Ground Crew & Flight Crew